Work Experience
At AMVC we are committed to Work Experience forming part of the school's curriculum for all Year 10 students. We are proud of the fact that we are one of few schools who continue to offer 'traditional' Work Experience for our Pre-16 students and we also facilitate Work Experience in our Sixth Form. We have had some hugely positive feedback from the students and the employers who hosted placements and we would like to express our gratitude to the students, parents and employers who support this process and make this so worthwhile.
What is Work Experience?
Work experience is an unpaid opportunity for students to gain valuable insights into the world of work, whilst still in school. The work experience placement will be at the employer's premises and the student will carry out a range of tasks and duties, more or less as would an employee. For many young people, this is the most significant contact with the world that they have before entering employment. The benefits include:
Increased self-confidence, motivation and maturity;
Increased understanding of the world of work, curriculum relevance and future career opportunities;
Enhancement of employability skills addressed during PSHE lessons;
An insight into 'work ethic';
The placement can be included on future CVs, college and university applications, potentially helping stand out from other candidates.
When does Work Experience take place?
Work experience is for 10 days and formally takes place during the final two weeks of the Summer term of Year 10.
Will I just be given a Work Experience placement?
AMVC has built up a list of around 1,500 local employers that regularly support our students with work experience. Students will have the opportunity to select 6 options from the web-based database of local employers. AMVC will endeavour to place students at one of their selected options.
What happens if a student cannot be placed with one of their 6 options?
Occasionally, for a number of reasons, a placement cannot be secured from the first 6 options. In this situation, the Work Experience Co-Ordinator will review the student's reselection criteria (where they can travel to / field of work interested in) from the Selection Agreement Form issued at the beginning of Year 10 and work through the database in order to secure a suitable placement.
I have a medical condition, can I still go on out on placement?
Placements are available for all Year 10 students. We are obliged to inform employers of any medical conditions a student may have but we do this for your safety. If an employer is aware of any medical conditions, they have a duty of care to ensure that the placement is healthy and safe for you. The medical conditions section of the Selection Agreement Form must be completed accurately to assist.
How will I know the placement is safe?
All employers offering placements to AMVC students will be visited by a qualified health and safety staff member prior to any placement being approved. At the visit, supervision, fire safety, first aid, welfare arrangements and safeguarding issues are discussed in detail.
AMVC want students to be placed in safe environments and where health and safety is appropriate to the level of experience / maturity that Year 10 students have.
What if I want to find my own placement?
A self-placement is absolutely fine. We understand that family and friends can provide useful links to new companies / careers and these have proven successful in providing a quality experience in previous years.
A Self-Placement Form will need to be completed, handed in to Mrs Clarke and the employer will be visited to ensure all of the required criteria has been met.
As a parent, is there anything I can do to help?
There is quite a bit the parent / guardian could do to help the process go as smoothly as possible.
Prior to the student choosing from the database, discuss with them what type of work they would like to do and what areas of Peterborough / South Lincolnshire they can get to
Ensure the Selection Agreement Form is completed fully – including any SEN / medical conditions
Encourage your child to log into the work experience database at home to complete their selections and enable you to review, if you so wish
Assist your son / daughter should they wish to arrange their own placement and ensure the relevant form is completed and returned promptly
Support your son / daughter with organising their travel arrangements
Should you have any queries, please raise them with Mrs Clarke
How will I know what I am expected to do during the placement?
A placement description will be available to view on the web-based database at the time of reviewing and selecting the work experience placement options. This will help to inform the students what is expected and outlines all of the tasks to be undertaken.
During the employer visits, any amends / gaps in the placements' descriptions will be updated and a risk assessment completed.
Students will receive a copy of this document before the start of their placement. It will also contain information such as start / end times, dress code etc.
Work Experience Interviews.
Some employers would like to give students a realistic experience of the world of work and request that students attend an interview prior to confirming the placement. The main focus of an interview is to ensure that the student is keen and the placement is suitable for them.
Many employers do this less formally and request that students visit / call prior to the start of their work experience placement. This can be a real benefit, as you get to meet the people and be shown around. Then day 1 can seem less daunting.
Step by step guide to Work experience for Year 10.
Below is an AMVC step by step guide to Work Experience for Year 10 students: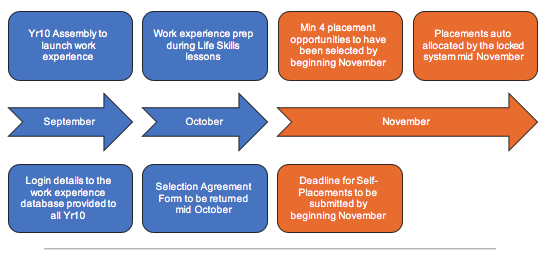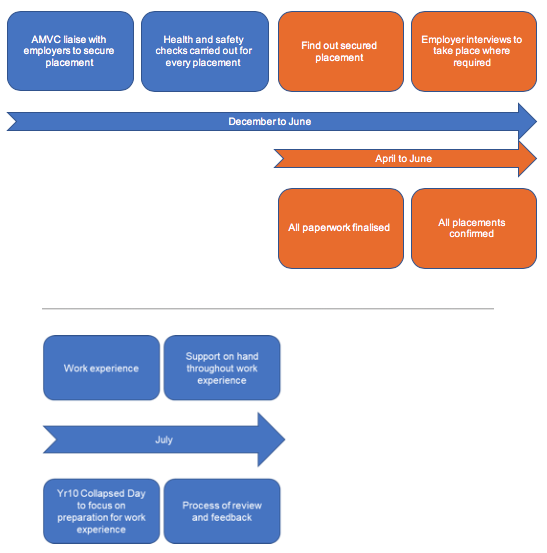 Who can I speak to about Work Experience?
For concerns or queries regarding work experience placements, self-placing or work experience interviews, please speak to Mrs Clarke.
Sixth Form Work Experience.
In addition to the formal Year 10 work experience period, within AMVC Sixth Form there may be opportunities for students to use regular slots on their timetable or opportunities outside of term time, to go out to work at an establishment relevant to their study or future career path. Work experience activities are in the form of work placement visits; work experience (1-2 weeks minimum), job shadowing, career-related volunteering and social action.
The earlier that Sixth Form students can arrange and begin work experience, the more relevant and appealing it will be in their UCAS, apprenticeship and job applications (part-time and full-time). All placements need to be discussed and agreed with Miss Stark. Of course, any work experience undertaken at any time during the course will be fantastic – it doesn't have to be in term time.