UK - German Connection 2016-2017

Arthur Mellows Village College and St. Wolfhelm Gymnasium
In Autumn 2016 Arthur Mellows was successful in being awarded a British Council grant to support a link between AMVC and St. Wolfhelm school in Germany. It is through this connection that we have been able provide pupils with the opportunity to participate in projects with the German school, live skype links and exchange visits.
It has been a fantastic project and AMVC pupils have done themselves proud once again.
Activities and projects
As part of our link with St Wolfhelm we completed four thematic projects; 'Who am I?', 'Democracy in action', 'Migration rights and responsibilities' and 'Culture and values'. Each project involved a large number of pupils in both schools and it is through these projects that both teachers and pupils have been able to develop an understanding of our partner school. It has allowed pupils in both schools to develop global understanding, critical thinking and an understanding of their identity in both their own culture and also on a global scale.
Information on each of the projects can be found below.
Project one - Who am I?
The first project, 'Who am I?' encouraged pupils to explore their own identity and sense of belonging and was conducted with all KS3 German/English pupils in both schools. Pupils prepared information on themselves and the school and took part in e-mail, video and skype exchanges of their work. Initially pupils were keen to prepare information in the foreign language in detail but as the project developed it was brilliant to see them becoming more confident when speaking a foreign language. The final skype session (December 2016) demonstrated the success of this project as pupils had developed a good understanding of their own personal history and culture, confidence in communicating in a foreign language alongside developing a good understanding of their partner school and the area in which it was located. After this project we all began to look forward to welcoming our German partner school to AMVC, a visit which took place in January 2017.
Project two - Democracy in Action
Our second project 'Democracy in action' was designed to involve a large group of pupils from both schools and explore issues and conflicts faced on local, national and international level.
This project was carried out through the student council in both schools and extended work took place with St. Wolfhelms 'debate team'. Through numerous student council meetings including a live student council meeting (via SKYPE) pupils were given opportunities to discuss topics including; Brexit, politics, teenage mental health, bullying and school facilities in a live forum with their European counterparts. The project took on another dimension as pupils developed an understanding of the political and legal systems of each country during exchange visits.
During the visit to the UK, pupils from the UK (aged 11-18) and Germany took part in a workshop with the magistrates who explained the local judicial procedures and involved pupil in a mock trial. During the exchange to Germany it was brilliant to take pupils to visit the Langtag (local parliament) in Dusseldorf where they were able to watch a live debate and discuss topical issues with the local MP as well as visiting the Mayor (mayor of Schwalmtal).
Project three - Migration rights and responsibilities
Throughout the planning and completion of our projects the issue of 'Migration rights and responsibilities' became increasingly relevant across Europe. This project ran throughout the academic year and was discussed during both visits and on skype in between. We explored this project during the exchange visit to the UK when pupils were able to take part in workshops with the British Red Cross who were able to explain the challenges faced by the charity and the movement of individuals from unstable countries through Europe, including Germany and the UK. This project promoted lots of discussion with pupils across a number of year groups in both schools. Pupils also discussed issues surrounding migration through skype as well as discussing with teachers, MP's and local mayors during visits.
Project four - Culture and values
Our final project 'Culture and values' involved KS3 pupils in both schools and pupils were given the theme of 'identity' to respond to in a creative way. This linked closely with the migration and who am I project. The responses from the pupils were fabulous ranging from paintings, murals and poems. We enjoyed sharing the outcomes of this project during our visits and celebrating the creativity of pupils and the cross-language communication that the arts provides. The entries from both schools demonstrated a wide range of talent, imagination and creativity!
Congratulations to the winning entries submitted by:
Alina Achandy
Grace Johnson
Poppy Revell
Morgan Jones
Emma Whight
AMVC entries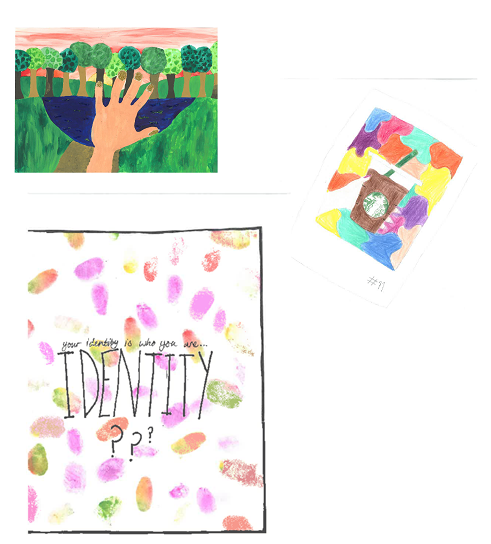 IDENTITY By Grace Johnson 7ARH
Identity is what makes you,
Identity is your chance,
Identity is your will to live,
And also what you enhance.
Identity is your friends,
Identity is your family,
Identity is your beliefs,
And what makes you happy and sad.
I'm going to read you a poem,
About Identity and your looks,
And what it should mean to you,
That you created you.
Identity is something special,
Just like me and you,
You only have one chance,
To make your dreams come true.
The dream to be yourself,
To be who you want to be,
To choose your friends,
And to choose your chances,
To choose your path in life.
Everyone has just one chance,
Just one chance to choose,
To choose your path,
The path will make you.
Others may think you're crazy,
Others may think you're weird,
But on the inside they will see,
The actual truth in you and me.
No matter what your eye colour is,
Or the colour of your hair,
Even if you try to disguise it,
The truth is always there.
It's impossible to just find it,
It's impossible to give or take,
It's only passible to create it,
Just be careful what you make.
Be proud of what you look like,
Be proud of what you know,
Be proud of the choices you make,
The truth will always show.
Culture and values entries from St Wolfhelm students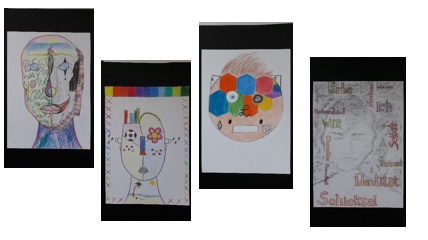 In January 2017 pupils from St. Wolfhelm came to visit AMVC for one week. They were able to spend a number of days in school taking part in workshops with our school council as well as local groups such as the British Red Cross and the Magistrates court. Most of all, they enjoyed spending time in lessons with AMVC pupils, taking time to develop an understanding of what education is like in an English school. They were very impressed by AMVC, by its facilities, resources and the attitude of pupils in lessons. It was a privilege to have them in school and also get to know them by joint visits to Bounce in Peterborough to give pupils time to get to know their European friends.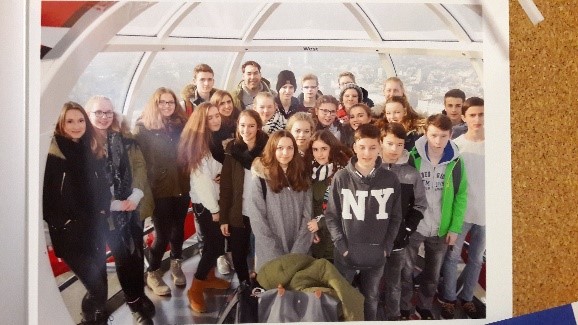 Visit to POSH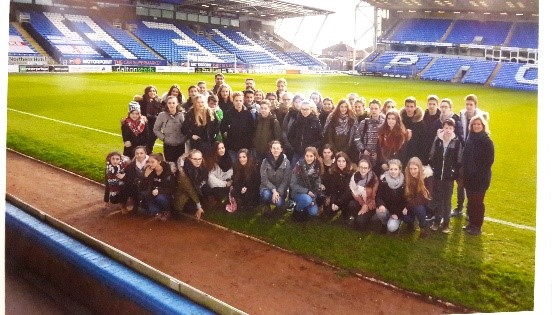 Visit to Germany
After the visit to the UK, we all began to look forward to our trip to Germany which took place in April 2017.
This visit did not disappoint and we had a fabulous time on the exchange trip to Germany 03-07 April. The pupils were brilliant and got involved in lessons at St. Wolfhelm, meetings with the local mayor, debates at parliament and discussions with MP's. Throughout every activity they were enthusiastic, engaged and a credit to AMVC.
It was a really interesting trip culturally and we enjoyed visiting the cities of Aachen, Düsseldorf and Schwalmtal. Watching Borussia Mochengladbach play was a highlight for all and fortunately they won 1-0 (safe to say they are better than POSH!).
St Wolfhelm is a lovely school and the staff and students could not have been more welcoming. We all really enjoyed visiting lessons and getting to see the school in action.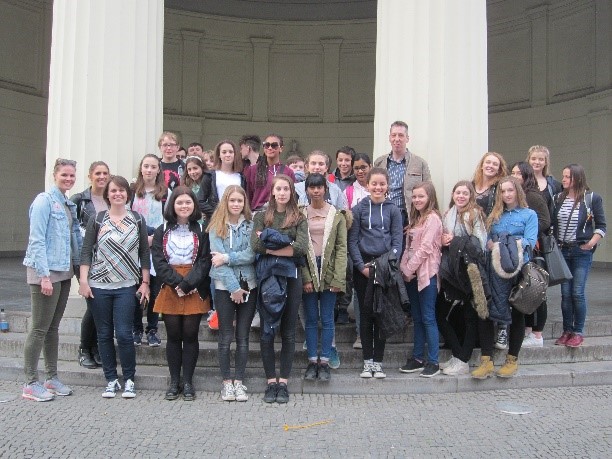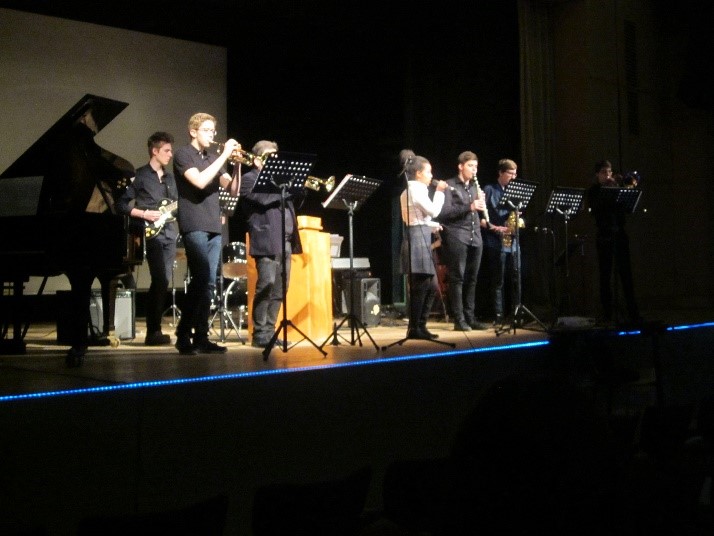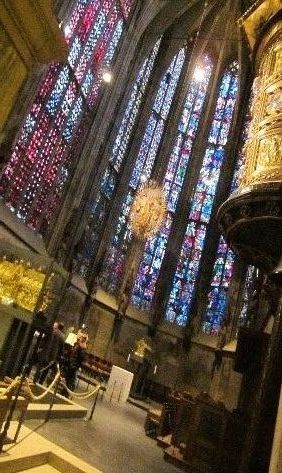 Impact and benefits of the school connection
This connection has been a culturally enriching opportunity for both Arthur Mellows and St. Wolfhelm schools and the wider community. It has been brilliant to see the pupils develop confidence in communication and global thinking skills. In terms of teaching, the opportunity to observe, participate and experience teaching and learning in another setting has been invaluable. It has encouraged personal reflection and broadened perspectives to new teaching and learning strategies and techniques.
During visits pupils have develop friendships with their 'buddies' in the host school and many look forward to meeting again on future exchanges. Pupils and teachers are already planning the next exchange… watch this space!
A big thank you to all the pupils who have contributed their own time and brilliant work to this project. It has been a fabulous year and I look forward to all this school connection has to offer in the future.