Travel and Tourism
Travel and Tourism aims to expand our understanding of the world and how to explore it. We investigate popular and emerging tourism destinations from across the globe and the different organisations which are involved in developing, marketing, and preserving these destinations. We ask how different sectors in the tourism industry respond to crises like pandemics and climate change, and how they use technology to develop sustainably.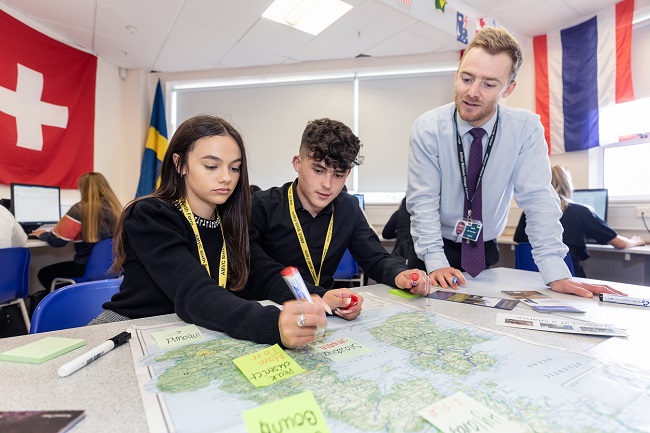 As a vocational subject, the content and style of learning has very practical applications, preparing students well for the world of work. The course builds employability skills directly linked to the tourism industry through making itineraries, designing marketing campaigns and event planning as well as transferable skills such as business and customer awareness, self-management and problem solving. Many of these skills are developed through the production of coursework, which requires students to fulfil assignment briefs at regular intervals throughout the year.
Key Stage 4 is when students can first choose to study travel and tourism which is delivered through the BTEC Tech Level 2 qualification, 60% of which is coursework and 40% exam, taken at the end of Year 11. The geographical skills and locational knowledge gained through Key Stage 3 Geography provide an excellent foundation which students build upon through the perspective of tourism organisations and their customers.
Key Stage 5 develops these principles and is delivered through WJEC/Educas Level 3 Applied Diploma, 50% of which is coursework and 50% exams, taken at the end of Years 12 and 13. Global affairs and technological developments are a focal point of class discussion as students consider the various impacts on the tourism industry and the relationships within it.
The department consists of four teachers, all with a background in geography and wealth of experience in tourism. We have seen excellent results consistently above the national average, supported by effective collaboration and outstanding teaching across the department. We take pride in embedding effective organisation and research skills which support students throughout their schooling, as well as providing appropriate challenge and support for students from all backgrounds and abilities.