Lettings
The College is available for the hire of facilities. These include numerous large and smaller internal areas, plus extensive grounds.
The following are examples of spaces:
Auditorium with tiered seating for 140 people and cinema quality projector.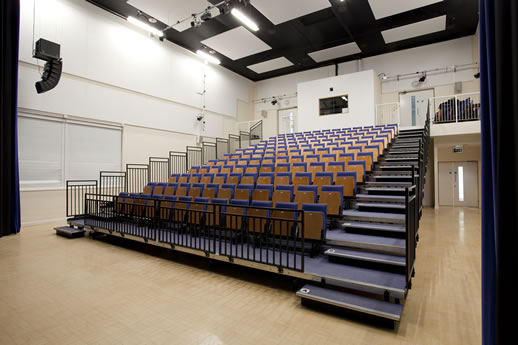 Main Hall with stage and seating for 350 people. Range of lighting available.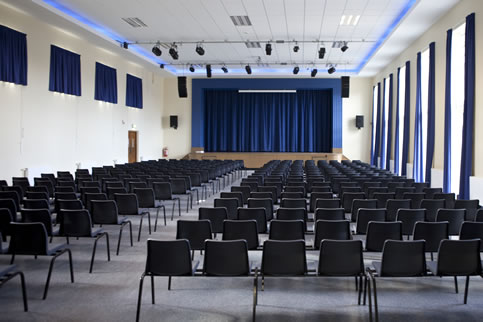 Dance studio with sprung floor
Gymnasium Sports hall
Fitness suite
Football pitches
Tennis courts
Swimming pool
Seminar rooms equipped with interactive white boards for presentations
Large canteen area with potential to cater for 150 people
Testimonials
From Peterborough Operatic and Dramatic Society
A BIG Thank you to yourself and Andy - we had two brilliant mornings at AMVC! Such great feedback from everyone involved and the facilities were just perfect - thank you! Andy was so lovely - nothing was too much trouble!
I definitely think we will be using you again for some Sunday rehearsals at some point (subject to availability of course!)
July 2022
---
From Kelsie Petrie (Fit Hit Instructor)
Everything was amazing, thank you. Can't rate the facilities enough. Thanks for all your help.
---
From Glinton Horticultural Society – September 2016
Just a quick note to say thanks very much for all your help in sorting out the details for our hire of the College for the Glinton Horticultural Society Annual Show on the 17th September. It was another good event, although the number of entries was down due to the vagaries of the weather this year. Can you also pass on our thanks to the caretaker. He was very helpful, cheerful and courteous. Once again, many thanks for all your help.
---
"The College was friendly and welcoming. Firstly there was excellent signage for car parking. I was greeted by a member of the College staff as I approached the designated car park and then shown into the meeting room.
The conference room was spacious, light and airy and had the added bonus of computers for the delegates to use. This was particularly useful for this Nasen/DfE course. The day to day life of the College went on and did not affect the smooth running of the courses. The administrative support during the day was superb.
Refreshments were great - water, coffee, tea, pastries, cakes and biscuits were available throughout the day in the conference room. The buffet lunch was tasty and plentiful. You made my role so much easier."
Jean Salt, NASEN Administrator
If you are interested in hiring any of these facilities, then please call Debbie Sanderson on 01733 252235 in the first instance, to discuss availability and costs.