Charity
Arthur Mellows regularly supports a range of charities and holds many exciting activities and events and student fundraising opportunities. Events are planned by the Sixth Form charity team as well as by many enthusiastic students and staff.
Below are brief descriptions of the charities we support and links where you can find out more about the work each charity does and also the fantastic fundraising events that have taken place in the past and ones planned for the future too!
We hope to raise a substantial amount this year for all of these worthy causes.
Macmillan Cancer Support
Macmillan Cancer Support is a charity which provides support to Cancer sufferers and their families. They aim to help people live their lives as fully as possible from the point of diagnosis by providing advice, information and resources.
The charity also support the work of the invaluable Macmillan nurses who work in the community and at centres. These nurses are the face of the charity and the support and encouragement they provide to patients and their families is incredibly valued by all who meet them. In addition, the charity also provide telephone and online support.
In September 2018 AMVC took part in the biggest coffee morning raising a total of £225. We hope to continue to build on this with more events taking place in 2019.
MIND
Every year the Sixth Form pledge to support a charity and run events for the school. They do a fantastic job of bringing their causes to the forefront of school life and the Sixth Form charity team are always motivated to raise as much as they can for the charity.
This year the Sixth Form have chosen to support the charity MIND. Mental health is an issue which is being talked about much more openly yet there are still many who do not get the support that they need. MIND aims to provide everyone who is experiencing a mental health problem the support and respect that they need. Through their campaigning they strive to improve services, raise awareness and promote understanding of mental health.
As a College we hope supporting MIND will help us to understand the wide range of illness which fall under mental health and also raise awareness of the support that is available for those who are struggling. The Sixth Form, alongside the mental health wellbeing team, will be running a range of events throughout the year to promote MIND, start conversations about mental health and create signposts to the support available both in school and locally.
Sixth Form marked mental health day, 10 October 2018, by wearing something yellow as part of the young minds 'Hello Yellow' campaign. In addition, more events took place for Mental Health Week in May 2019.
Children in Need
Once again the College supported the Children in Need charity by arranging a week's worth of events. Events included bake sales, Sixth Form helpers, non-uniform and a fundraising bazaar involving multiple stalls.
Children in Need support over 2400 charities nationwide and a number in our local area including Centre 33, Carer Trust, The Froglife trust and Little Miracles, to name only a few!
http://www.bbc.co.uk/corporate2/childreninneed
Peterborough Soup Kitchen
Peterborough soup kitchen is a local charity for the homeless and disadvantaged people from in and around the city. Their aim is to ensure that anybody who turns up at their serving van receives hot soup, food and drinks throughout the year whatever the weather conditions. They are a volunteer-run charity who rely on food and financial contributions to support the work that they do.
Celebrating 35 years this year the charity has been supported by food donations from AMVC for the past two years. Throughout the autumn term the food drive takes place involving the whole College but with a special effort from Years 8 and 9 who have taken ownership of promoting this charity within the College. They ask for donations of food and sanitary basics to be taken to the library before the donation is dropped off at Christmas.
Useful items include: Coffee, Biscuits, Chocolate, Crisps, Ribena/Capri-Suns, Tins of corned beef/tuna, Deodorants, Soaps, Flannels, Toothbrushes, Toothpaste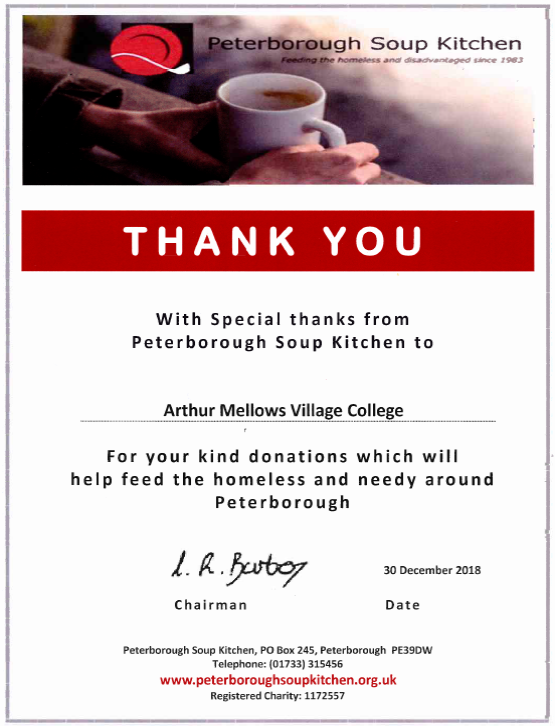 Comic Relief
AMVC supports Comic Relief which since 1985 has been fundraising to support a wide range of charities both in the UK and around the world. They have run a series of initiatives aiming to raise money for worthy cause whilst also having a bit of fun!
AMVC has previously held events such as: teacher talent shows, sports contests, head shaving. As events take shape for this year's fundraising we hope that we can continue to support this charity with a range of fantastic events.
See below for more information on the wide range of charities supported by comic relief.
SSAFA – The armed forces charity.
Our proximity to local RAF bases (especially Wittering) means that the armed forces are a big part of many of our staff and pupils lives. The SSAFA aim to support the people behind the uniform at any time they need, for life. Whether problems with debt or homelessness; physical injuries, addiction or mental health struggles; relationship breakdown or bereavement: whatever challenges they're facing, members of the Armed Forces community can rely on SSAFA. Their network of more than 5,800 trained volunteers provides practical and emotional support for serving personnel, veterans and military families across the UK and worldwide.
This year the Sixth Form supported SSAFA by holding a Sub-eating contest on the 12 October 2018, to see who could eat a sub in the fastest amount of time! Those taking part paid for the privilege and spectators donated to watch the outcome of the contest as it unfolded! Special thanks go to Cucina who donated the subs. For more information on the work of SSAFA please follow the link below.