Business, Enterprise and Economics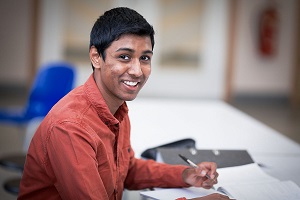 The aim of the department is to develop in our students the skills, qualities, attitudes, knowledge and understanding which are valued by both employers and further education and also equip them for the challenges, opportunities and responsibilities of adult and working life.
Our objectives are to:
Provide an insight into business, enterprise and economics
Encourage student centred learning
Develop business skills in marketing, human resources, finance and operations management
Develop communication, numeracy and ICT skills
Raise awareness of Spiritual, Moral, Social and Cultural aspects of business and the economy.
The department is made up of highly experienced teaching staff who also have a varied professional business background. The team work very closely together to create a friendly working environment in which each student is encouraged to be successful and to maximise his or her potential.
The department is well resourced and based in four 'Business' classrooms. Each room has a projector, interactive white board and networked PCs.
Working as a team the department share ideas and take responsibility for curriculum planning, organisation and administration. This enables all members of staff to have an input into the running of the department as well as ensuring professional development.
ICT is integrated within all courses. The aim is to enrich the learning experience, promote independent learning and to help students become confident and proficient in the use of ICT. The main software used is Microsoft Office which includes Word, Excel and PowerPoint. A wide range of business education sites on the Internet and College Intranet are also used to support student learning.
The department offers the following Key Stage 4 courses for students in Years 10 and 11
BTEC Tech Award in Enterprise (equivalent of 1 GCSE)
The course is made up of 3 components
Exploring enterprises
Planning for and running an enterprise
Promotion and finance for enterprise
Components 1 and 2 are assessed internally via assignments marked by College staff and verified by the Exam board. Component 3 is assessed externally via a written exam.
GCSE Economics
The course is made up of 2 units:
How the Market Works – an investigation into the economic problem, how markets in capitalist economies work and how firms operate in competitive markets.
How the Economy Works – an investigation into how governments in capitalist economies attempt to achieve growth, full employment, price stability and the redistribution of income
Each unit is assessed via an exam set by the exam board.
The department offers the following Key Stage 5 courses for students in Years 12 and 13.
BTEC Extended Certificate in Business (equivalent of 1 A Level)
The course is made up of 4 units
Unit 1 – Exploring Business (Internal Assignment Assessment)
Unit 2 – Developing a Marketing Campaign (Controlled Assessment)
Unit 3 – Personal and Business Finance (Externally Assessed Exam)
Unit 27 – Work Experience in Business (Internal Assignment Assessment plus 40 hours Work Experience)
BTEC Foundation Diploma in Business (equivalent of 1.5 A levels)
Students study the Extended Certificate units above, plus the 2 additional units below:
Unit 8 – Recruitment and Selection (Internal Assignment Assessment)
Unit 4 – Managing an Event (Internal Assignment Assessment)
A Level Business
The course is made up of 4 themes:
Marketing and People
Managing Business Activities
Business Decisions and Strategy
Global Business
Themes are assessed via 3 examinations set by the exam board which together make up the A Level.
A Level Economics
This course is made up of 2 units:
Individuals, firms, markets and market failure
Economic methodology and the economic problem
Individual economic decision making
Price determination in a competitive market
Production, costs and revenue
Perfect competition, imperfectly competitive markets and monopoly
The labour market
The distribution of income and wealth: poverty and inequality
The market mechanism, market failure and government intervention in markets
2.The national and international economy
The measurement of macroeconomic performance
How the macroeconomy works: the circular flow of income, AD/AS analysis, and related concepts
Economic performance
Financial markets and monetary policy
Fiscal policy and supply-side policies
The international economy
The course content is assessed through 3 examinations set by the exam board which together make the A Level award.
Young Enterprise
Year 12 students can choose to take part in Young Enterprise as an enrichment subject. It provides a unique opportunity for our students to set up a company owned by shareholders, produce and sell a product and generate a profit. As part of Young Enterprise, our students will receive advice and guidance from local business people which will provide students with an opportunity to develop their enterprise and employability skills.
Young Enterprise students will attend regular meetings with their 'Business Advisors', attend training conferences, take part in local and national competitions and sell their products at Trade Fairs such as Stamford, Huntingdon, Peterborough, Bedford and Cambridge.