Morgan Sindall's Design Competition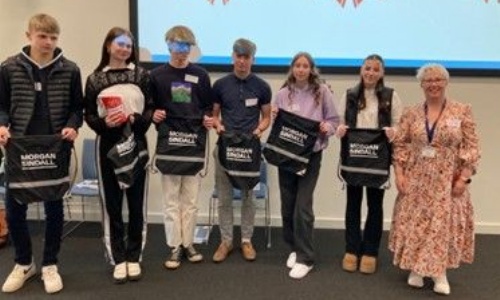 On 2 May 2023, Arthur Mellows Village College had the pleasure of taking 2 groups of students to take part in Morgan Sindall's design competition at the new University campus in Peterborough. Morgan Sindall are working with schools in Peterborough to change the perception of construction. Arthur Mellows were invited to compete against King's, Nene Park Academy, Ken Stimpson and St John Fisher in redesigning Great Yarmouth Leisure Centre. Specific roles were allocated within their teams which included Structural Engineer, Quantity Surveyor and Social Value and Environmental Manager. Experts in these roles were on hand to help the students and the project ideas had to be presented back during the afternoon.
It was a great opportunity for students to experience what a University Campus looks like and see what facilities would be available to them if they undertook higher study. Both groups composed strong presentations and delivered them very professionally. We are pleased to say that one of our teams won the competition. Students have now been offered a period of Work Experience and a visit to a Live site.
Oliver Gilbert who took part in the event, and was a winner, wrote this about his experience of the event.
I found the day to be very enjoyable and informative, helping me get a better understanding of the industry. I was not interested in architecture going into it, and though still not finding it to be for me, I certainly learnt more about the vast array of opportunities within the industry, and will keep it in mind for future thought. I performed the job role of the structural engineer, which although knowing nothing about previously, the expert in said field was very friendly and helpful, teaching the basics well with effective examples, allowing me to get a better understanding of it. I also enjoyed collaborating with my team members amongst everyone else, as feeling heard/seen and more mature because of the well-designed building and walking throughout it (though only briefly). All in all, the teachers/experts were very helpful, welcoming and kind; the event was effectively carried out to inform us on what the industry is really like and getting us interested.