Sixth Form Virtual Prospectus and Information
Welcome to Parents and Year 11 Students, thank you for your interest in attending our 'Virtual Prospectus' with regard to prospective Sixth Form admissions to the College in September 2021.
We understand that the preparations we have made together with the information in the film and on this website is no substitute for seeing the College for yourselves, as usually happens. Usually we embrace the opportunity for you to soak up the atmosphere of life at the College at our traditional Open Evening, which gives you the chance to talk to our existing Sixth Form students and staff. However, in these unprecedented times, we have created the resources on this website page to enjoy from the comfort and safety of your own home, which we hope will provide you with the information you require.
We would also like to encourage you to browse the College website which contains a wealth of information about our curriculum and how we operate.
Below you will find a link to our Virtual Prospectus which, alongside other links and documents, should enable you to make an informed choice as to whether Arthur Mellows Village College is the Sixth Form school for you / your son or daughter.
Sixth Form Virtual Presentation
Our Virtual Prospectus – "Welcome to Arthur Mellows"
Information for Parents of New Students
Application Process and Prospectus
We are an 'Outstanding' Ofsted school
We are very proud of the fact that we have been awarded Outstanding status by Ofsted on two consecutive inspections: 2009 and 2014. We work tirelessly to maintain this accolade in everything we do.
Please click here to access our last Ofsted report.
Examination Result Headlines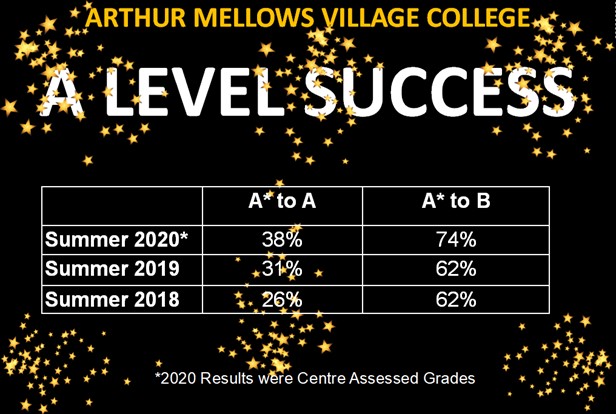 Please use the following link to the DfE website for the statistical student performance at Arthur Mellows Village College.
http://www.education.gov.uk/cgi-bin/schools/performance/school.pl?urn=136266
If Parents or Students have any further questions prior to making an application to join the College, please email office@arthurmellows.org.
Thank you for taking the time to watch our film and read through this Virtual Open Evening page.
MR M SANDEMAN
Head of College
Monday 14 December (9.00am) 2020
Deadline for all applications for September 2021
January 2021 onwards
Meetings to take place with all students who have applied for Sixth Form
March 2021 onwards
Conditional places offered

Monday 5 July 2021

and

Tuesday 6 July 2021

Sixth Form Induction